The Corkscrew Cave, a home worthy of your cat!
This collection features an original and cosy design that combines contemporary lines and craftsmanship. All our caves are 100% handmade. The tails of these corkscrew models can be repositioned as you wish.
These cocoons are true little houses for your cat and are definitely original. Available in gray, black or chocolate colors, our caves will look great in your home!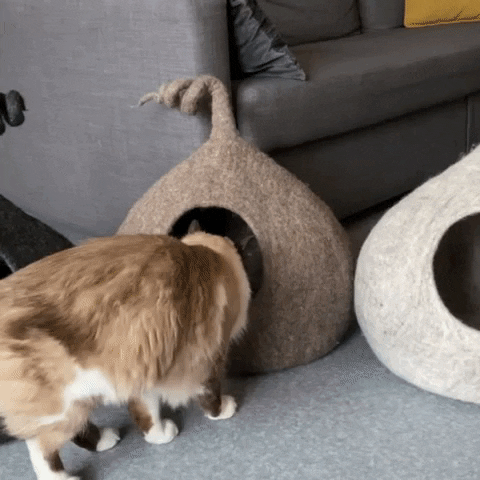 Nature's best for your cat
Our caves are entirely made of 100% natural wool. One of the key properties of this wool is its ability to neutralizes odors. It also has excellent insulating properties because it traps lots of air between its fibers. Your cat will always be warm and cosy.

The Corkscrew cave collection has a unique size : XL (15 x 19.5 inches)

The Original Collection
Our caves are available in a Standard size and an XL size to fit all breeds of cats.
 Standard

 

size: 



Size

 

~ 16.5 x 15 inches
Height  ~ 11.5 inches
Opening ~ 7 

 

inches

XL

 

size: 

Size ~ 18 x 16.5 inches


Height  ~ 12.5 inches




Opening ~ 8 inches

Please note that each cave is handmade, so the dimensions may vary by 0.5 inch.
PS: The caves may have a few folds upon reception. You can reshape them by hand and wait 72 hours. The wool will take its original shape after being aired out.


The Corkscrew Collection
Our Corkscrew collection is a unique size, equivalent to an XL size. 
Size ~ 15 x 19.5 inches
Height ~ 15 inches (without the tail)
Opening ~ 7 inches

The cleaning guide:
Your cat's cave will need a good scrubbing after being used for a few months.
Cleaning the cat hairs:

Just reverse the cave inside-out and rub it with a wet glove
Washing the cave:

The cave should not go to the washing machine. It could damage the felting and remove the natural smell of the wool your cat liked. 

1. Rinse the cave in warm water
2. Rub with soap the dirty areas. If your cat urinated in the cave, you might need some vinegar to remove the smell. 
3. Let it soak for a while in warm water. 

Dry the cave:
Do not put in the dryer. It should damage the wool.
The best method is to let the cave dry in the sun. 
If you're not in a sunny area, roll in into a towel to remove the excess of water. Then let it dry in a dry place.  

Please note that this guide only gives tips and recommendations. We are not responsible of any potential damage your cat may cause.
Stylish essentials for cats & their humans
We all know how ugly synthetic pet beds can be.
We wanted to create uniques pieces, that would please both cats and their owners.

The use of natural wool in the creation of our products appeared as an evidence, allowing us to shape our designs, but also to provide an unparalleled experience of comfort and privacy for our furry friends.
A safe and natural cocoon for your cat.
Wool is a wonderful material. Not only it keeps the heat so your cat stay cosy, but it also anti-allergenic.

Working with natural fibers came as a matter of course when we noticed the pet bed industry is based on plastics and synthetics.

Lastly, cats feel good in their cave as it's a protective bubble where they can be isolated.